Study Overview
Every year more than 30% (2 billion) of the world's population and 75 million adult Americans suffer from disorders that have been lumped under the term "anxious misery." Among patients who receive treatment, a large number remain with debilitating symptoms, often for years or decades. Recently, the NIMH has led efforts to define constructs within the Negative Valence System (NVS) that cut across such disorders in order to spur research on underlying mechanisms. The Dimensional Connectomics of Anxious Misery Project will focus on potential brain circuitry and behaviors associated with loss and responses to sustained threat, two of the most central NVS dimensions. By considering these brain circuits jointly, we can disentangle these dimensions for more specific targeting of disabling symptoms. Recent improvements in treatment efficacy have been shown in studies that target regions by mapping individual anatomy and connectivity patterns. This project will comprehensively characterize NVS spectrum disorders using the Research Domain Criteria (RDoC) framework, focusing on brain circuits important in pathophysiology across the spectrum of loss and responses to sustained threat.
Project Timespan: April 1, 2016 - March 31, 2020
Study Protocol Overview
Data being collected
Imaging: This project will use the 2-session HCP Lifespan protocol implemented on a single Siemens 3T Prisma MRI scanner. Scans will begin with background-suppressed pseudo-continuous arterial spin labeling (pCASL) to quantify whole-brain cerebral blood flow. In addition to standard HCP Lifespan task-based fMRI data for working memory, face recognition, social cognition, and gambling, we will add a task-fMRI acquisition designed to measure implicit emotional conflict. Finally, an optimized T2-weighted image sequence with ultra-high in-plane resolution will be acquired through the temporal lobe for use in hippocampal and amygdala segmentations.
Clinical: Neuropsychological testing, multiple phenotypic measures including the SCID.
Genetics: blood samples and/or saliva samples.
Behavioral: Neurocognitive data using the NIH Toolbox and Penn Computerized Neurocognitive Battery, results from startle task, and self-reporting of mood.
Cohort Description
This study will recruit 50 control participants and 200 participants with anxious misery symptoms from the Outpatient Clinics of the University of Pennsylvania. All subjects will be 18-45, male or female, any race, and English speaking. Likewise, all subjects will have the capacity to give informed consent and follow study procedures. Participants will be recruited to the University of Pennsylvania, where they will undergo an extensive multi-modal assessment to characterize the cross-sectional phenomenology of these Negative Valence domains and a one-year follow up to assess subsequent symptoms.
Data Release Plans
Analyzed data on all subjects, gathered up to that point, will be released during year 2 of the project. Analyzed data for all 250 subjects will be released at the conclusion of the study in year 4.
Keywords
Human Connectome Project, Negative Valence System, Anxious Misery, Brain Imaging
Current Data Releases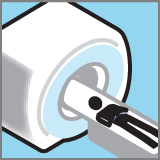 DCAM Release 1.0 of imaging and behavioral data is now available in the NIMH Data Archive (NDA). Dimensional Connectomics of Anxious Misery (DCAM) is a study of adults with and without major depressive disorder (199 patients, 49 controls).

DCAM Release 1.0 data includes:
unprocessed data of all modalities (structural MRI, resting state fMRI, task fMRI for 3 tasks, diffusion MRI and High Resolution Hippocampal T2) for 248 subjects
clinical and behavioral data for 246 subjects
Get Access and Download the data: Get started with the Data Access and Download Instructions for obtaining access, navigating NDA and using it's download tools. We've also created a wiki that details setup steps for downloading data via NDA's command line tools.
The released data are available on NDA as:
DCAMAllFiles package of all released imaging and behavioral data (1.4 TB, OPTION ONE)
DCAMImgManifestBeh package of imaging manifests + behavioral data (22 MB, OPTION ONE)
or can be filtered on to create a custom package of a subset of the data (OPTION TWO).
Want more information? Check out our documentation to help with understanding the project and interpreting the data.
View Data Release Documentation
Release Date: Jul 20, 2023
Data Use Terms
When users request access to the NIMH Data Archive (NDA), they sign the NDA Data Use Certification (DUC) under which the data is shared. This DUC is usually submitted to the NDA electronically, but this printable version can also be submitted to NDAhelp@mail.nih.gov.
More information on obtaining NDA access is available in the Data Access and Download Instructions.

Contact This Study
Mail was sent, thank you.
Error: Please fill in all required fields